SBA to Increase Small Business Size Standards
Guest Contributor | August 22, 2019
Megan Connor, Esq. – Piliero Mazza
SBA recently issued an interim final rule increasing the size standards for inflation. The change should be effective August 17, 2019, 30 days after the scheduled publication of the rulemaking. Comments to the rule are due September 16, 2019. For government contractors whose status changes in the System for Award Management ("SAM") from "other than small" to "small," as a result of the inflation adjustment, SBA advises that the business update their SAM profile and complete the "representations and certifications" section of SAM. Doing so will provide a more competitive environment for government contractors whose status changes to a "small business."
SBA's last inflationary adjustment was five years ago, in 2014. SBA estimates that this inflation adjustment will enable approximately 89,730 firms – competing under receipts-based size standards that are currently above SBA's size standards – to gain small business status and become small again.
The table below shows the current size standards and the adjusted size standards: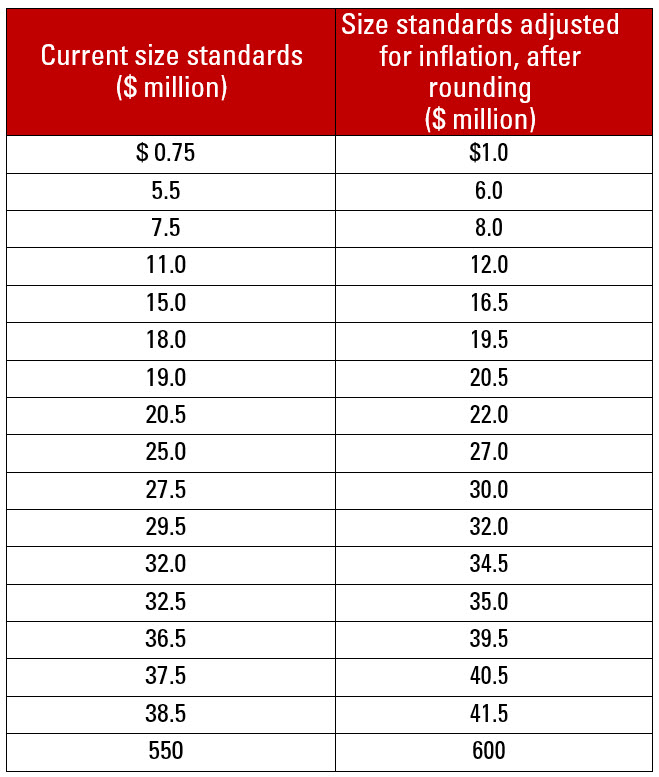 For example, the size standard for Engineering Services (541330) will increase from $15 million to $16.5 million, the size standard for Computer Systems Design Services (541512) will increase from $27.5 million to $30 million, and the size standard for Remediation Services (562910) will increase from $20.5 million to $22 million.
Notably, SBA has not yet completed its substantive review of the size standards, which it is supposed to complete every five years and has been due since 2017. In April, SBA said that it "plans to issue proposed rules on all receipts-based size standards, including those in NAICS Sector 54 and Subsector 236, in the near future." Potentially, these forthcoming proposed rules could mean more increases to the size standards.
For more information, please contact a member of PilieroMazza's Government Contracts or Small Business Programs & Advisory Services practice groups.
Megan Connor, the author of this Client Alert, is a co-chair of the Firm's Government Contracts Group.
Original article can be found here.